High Quality Misting Nozzles For Effective Misting
Effective, reliable, long lasting fogging systems need high-quality misting nozzles. The nozzle orifice is key to a high-quality misting nozzle.
Renby MicronFog™ nozzles are precision engineered from nickel plated brass bodies with laser drilled ruby orifices.
The perfect roundness of the hole is critical to give consistency at every nozzle. This provides an accurate, hard-wearing misting nozzle which produces a fine and consistent fog droplet size.
This ensures controllability, offering maximum effectiveness when it comes to dust suppression.
Other fogging systems are supplied with brass or stainless-steel nozzles. Our ruby nozzles last four to five times longer than stainless steel and up to 10 times the life of brass.
These microscope images of the nozzle orifice illustrate the difference between a poorly drilled nozzle and a MicronFog™ nozzle. Badly drilled holes give erratic spray distribution. With laser-drilled ruby, we can be sure of the smoothness of the orifice. This ensures consistently fine droplets – critical to system effectiveness.
Varying Flow Rates to Suit Your Needs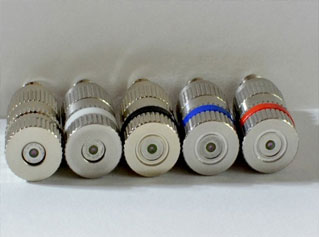 MicronFog™ Nozzle Range
We supply 5 orifice sizes, each offering a different flow rate, and cone angle. This allows us to design a fogging system tailored to the your exact requirements.
The amount of fog can be increased, decreased or blanked off as required. Nozzles are easy to maintain, because they can be taken apart for cleaning.
A coloured band denotes the nozzle size. This simple visual identification means that the fogging system configuration can be checked quickly and easily without removing any nozzle to check its size.
Nozzles can also be supplied in 303 or 316 grade stainless steel.
MicronFog™ Nozzle Range
These are the common nozzles supplied. Other styles are also available upon request.
Nozzle Image
Orifice Size
Flow Rate (at 70 Bar) Litres per min
Cone Angle
Band Colour
0.085mm
0.02
40
Black
0.1mm
0.03
50
White
0.15mm
0.046
60
Red
0.2mm
0.065
70
Blue
0.3mm
0.095
80
None
Easy to Install and Maintain.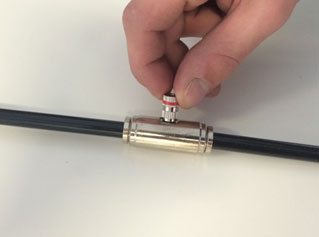 Installing a Micronfog Nozzle
Our nozzles are incredibly easy to fit and maintain. The nozzle simply screws neatly into the sliplock fitting . They can be changed for an alternative size nozzle for different effects and can be removed for cleaning if necessary.
Installers love the flexibility of the MicronFog™ system which allows them to alter the design of the system on site.
The small size of the nozzles enables the system to be discreet if required. Ideal when being used as a special effect.
CONTACT RENBY
Call us on +44(0)1829 740913 or complete our contact form below to find out how a MicronFog™ system could benefit your business.