Renby Ltd Brochures
Click on the images or links below to download the brochures.
Micronfog™ Fogging Brochure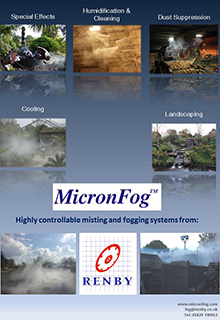 This MicronFog™ brochure describes the benefits of MironFog™ along with its great variety of applications; from single and multi-zone dust suppression, cooling and humidification to disinfection, chemical delivery and misting special effects.
The brochure now outlines our entire MicronFog™ product range, including the Multi - Zone system, MicronFog™ Lite and the compact MicronFog™ Nano.
MicronFog™ Fogging Brochure 2015 (1.7MB Download)
Renby Ltd Complete Product Range
The full Renby brochure describes our complete product range, including:
Renby MicronFog™ Fogging and misting systems
The revolutionary Neutrapak odour neutralising system,
Schrage Tube Chain Conveyors for dust tight conveying,
Spirofloor moving floors and
The Hydratech Toploader for transferring or dosing bulky materials from road transport into your process